Rascal and Friends Diapers Review 2022
As a mother, choosing the right diaper is not only about its function that keeps the baby dry but also need to check its material.

In this article, you will find all informations about Rascal and Friends' diapers and reviews. We've highlighted the elements you should consider to choose or pass. We hope that this review will assist you in determining the best option for you and your baby. First, let's have a look to Rascal and Friends Diapers Size Chart.
1. Rascal and Friends Diaper Sizes
| | |
| --- | --- |
| Size 1 | 6 – 11 lbs |
| Size 2 | 9 – 18 lbs |
| Size 3 | 13 – 24 lbs |
| Size 4 | 20 – 30 lbs |
| Size 5 | 28 – 40 lbs |
| Size 6 | 35 + lbs |
2. What are rascal and friends made of?
Rascal and Friends diapers are made without any harsh chemicals, latex, lotions, or scents.
Instead, they use ultra-soft materials and water-based inks that have been dermatologically approved as safe and mild for sensitive skin.
3. Do rascal and friends diapers have wetness indicator?
Yes, Size 1 and Size 2 Rascal and Friends diapers have wetness indicators.
4. Are rascal and friends diapers eco friendly?
The fact that Rascal + Friends Premium Diapers are free of harsh poisons is clearly their key selling feature. Also their fancy pants design makes the diaper so soft and absorbent!

But Rascal and Friends premium diapers are not eco-friendly since they are created with fluff pulp in the core and plastic in the inner and outer layers.
– Polyproylene fibers are used for the top and back sheets.
– Fluff pulp and traditional SAP are used for the absorbent core.

For more eco friendly diapers, check out Best Eco Friendly Diapers 2022
5. Rascal and friends diapers f
eatures
– Stretchy High Back Waistband
– Absorbent 3D Core
– Soft Leg Cuffs
– Breathable Backsheet
– Wetness Indicator (Found in size 1 and 2)
– Double Leak Guards
– Unique Deep Pocket
– 3 Layers of Protection
– Strong Grip Tabs
6. Rascal and Friends Diapers Price (Premium Diapers)
Price: $7.97
Size 1 – 38 Count
Size 2 – 33 Count
Size 3 – 29 Count
Size 4 – 25 Count 

Price : $19.97
Size 5 – 64 Count
Size 6 – 54 Count
7. Rascal and friends diapers review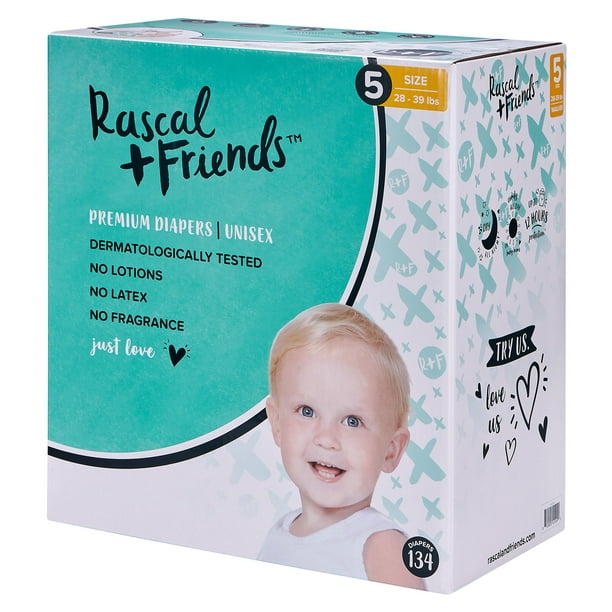 Pros
– Very soft
– Affordable
– Good absorbency
– Secure leg coverage which prevents blowouts
– Gentle on sensitive skin, no harsh chemicals
It looks like Rascal Friends diapers are made to please, with an average of 4.6 stars out of 5 in over 4600 reviews. 96% of users would recommend the diapers, which is pretty great going. 
One reviewer loves how soft the diapers are and how the side tabs are super secure. Another describes how they've tried pretty much every diaper on the market, and these perform like one of the best. They say they're great for handling poop explosions and they're even effective overnight.
i. These were the only ones my son didn't pee through. We tried all other brands before finally finding these. He moved through all sizes until reaching the pullups and finally potty training.
–
ii. Great diapers – no leaks and no explosions
Very soft and comfortable
My kids have had no reactions and diapers hold so much! Even after a 12 hour night stretch their bums are still dry.
No chemicals and affordable!
–
iii. Since the first time I tried these diapers they became my favorite brand. Size bigger than others brands, super absorbent, no perfume and nice designs.
i. Overall this is a good diaper. No overnight leaks, moderately comfortable, no fragrant smell. The waist fit was a touch small, but the over all fit around the bum was fine. The pee smells quite strong though as they do not mask that.
–
ii. I love how durable they are.
It comes with a leak proof guard which is awesome for preventing pee spillage.
The grip tabs are really firm and holds the diaper in place.
The white and green pattern design are really cool, quite simple yet beautiful
–
iii. They are very absorbent which is great for everything, but especially overnight protection. They are the only diaper that doesn't irritate my kids sensitive skin.
They are affordable and come in large quantities.
9. Comparison of rascal and friends with other brands