Benefits of Topical Zinc for Skin 2022
Zinc has been utilized as a medicinal method for ages, in both its elemental and salt forms. Zinc oxide, calamine, and zinc pyrithione are topical treatments that have been used calming agents and active ingredients in antidandruff shampoos.
Is topical zinc good for skin?  Yes!  Zinc also been used for a variety of dermatological problems over the years. For instance: zinc oxide is used to treat minor skin ailments such as diaper rash, burns, cuts, minor wounds and eczema. For better understanding, here are the benefits of topical zinc for skin!
Topical Zinc Benefits for Skin
source from freepik.com
Oral zinc was found to be effective for patients with mild acne, according to a research. However, in some case, oral supplementation came with side effects such as nausea and vomiting.
Is topical zinc good for acne?
Topical application carries less side effects but it may be less effective than oral zinc. However, this does not imply that it is completely ineffective.
Topical zinc has anti-inflammatory properties. It may aid in the removal of acne-causing bacteria from the skin as well as the reduction of oil production.
The form of zinc that you will use is determined by the severity of your acne, your skin type, and your lifestyle. Best to consult a doctor or dermatologist to help determine the right type of zinc for you.
2. Topical Zinc for Psoriasis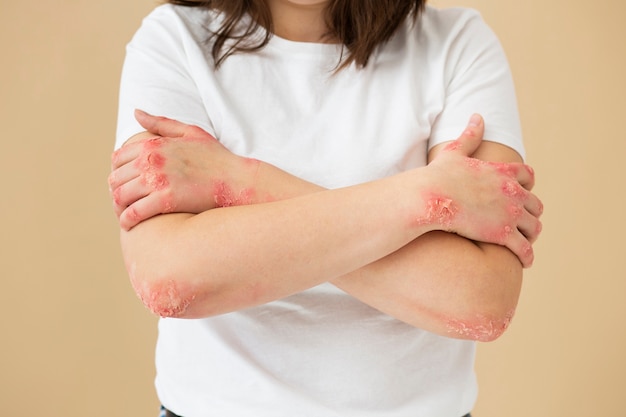 source from freepik.com
Psoriasis is a skin disorder that causes red, itchy scaly patches. People commonly get the patch on their knees, elbows, trunk and scalp.
Zinc has been tried for the management of psoriasis. In a randomized double-blind controlled trial, topical 0.25 % zinc pyrithione cream, applied twice daily, was found to be beneficial for localized plaque psoriasis. The benefit was attributed to antiproliferative effect of zinc pyrithione.
3. Topical Zinc for Wound Healing
a. Topical Zinc and Leg Ulcer
Topical zinc is widely used in wound treatment. A study suggest that topical zinc may stimulate leg ulcer healing by enhancing re-epithelialization, decreasing inflammation and bacterial growth. When zinc is applied on wounds it not only corrects a local zinc deficit but also acts pharmacologically.
b. Topical Zinc and Burn Wounds
A study compared the effects of topical zinc oxide and topical silver sulfadiazine in the treatment of partial-thickness burn wounds. They found that zinc oxide was more effective than silver sulfadiazine in terms of epithelization, dermis maturation and scar form.
4. Topical Zinc for Eczema
a. Topical Zinc and Atopic Dermatitis
Topical zinc oxide has been used to treat atopic dermatitis, a chronic inflammatory eczematous dermatosis characterized by impaired skin barrier function, increased oxidative cellular stress, and bacterial colonization due to its high antioxidant and antibacterial properties.
In a study, zinc oxide impregnated textiles were tried in vivo for the therapy of atopic dermatitis, and patients who wore zinc oxide-impregnated textiles had a significant improvement in disease severity, pruritus, and subjective sleep compared to the control group (Source).
b. Topical Zinc and Chronic Hand Eczema
A study evaluate the efficacy of the '0.05% Clobetasol + 2.5% zinc sulphate' cream versus '0.05% Clobetasol alone' cream in the treatment of the chronic hand eczema. And the '0.05% Clobetasol + 2.5% zinc sulphate' cream was found more effective than '0.05% Clobetasol alone' cream (P < 0.05). The recurrence rate of eczema was significantly lower in the group treated with this combination treatment (P < 0.05).
5. Topical Zinc for Warts
source from freepik.com
Warts are a contagious skin infection caused by the human papillomavirus (HPV). The infection causes rough, skin-colored bumps to form on the skin. Warts are commonly appear on the hands, but it can also affect other area, for instance feet, face, genitals and knees.
A study showed that topical 10% zinc sulphate solution was a new effective and safe modality for treatment of plane warts.
Another study also evaluate the effectiveness of topical zinc oxide for treating warts. And it showed that topical zinc oxide is effective, painless, and safe therapeutic option for treating warts.
6. Topical Zinc for Diaper Rash
source from freepik.com
Many diaper rash products contain zinc oxide as an active component. They're typically rubbed to your baby's rash throughout the day to soothe and protect his or her skin. It doesn't need much – just a thin layer will work. When needed, the product can be put over medicated creams such as an antifungal or steroid.
7. Topical Zinc for Cold Sores
source from MedicalNewsToday
Cold sores are a common viral infection caused by herpes simplex virus (HSV). They are tiny, fluid-filled blisters on and around your lips. These blisters are often grouped together in patches. After the blisters break, a scab forms may last for days. Cold sores normally heal without leaving a scar in two to three weeks.
According to a study, cold sores treated with zinc oxide experienced a significantly shorter duration of cold sore lesions (mean, 5.0 days) than those treated with a placebo cream (mean, 6.5 days).
Best Topical Zinc Products
Topical zinc may have less side effect than oral zinc. However, some people (rare incident) can get a very serious allergic reaction to this drug. If you notice any symptoms of a serious allergic reaction, including: rash, itching/swelling (especially of the face/tongue/throat), severe dizziness, trouble breathing, contact your doctor right away.
This is not a complete list of possible side effects. If you notice other effects not listed above, contact your doctor or pharmacist.